US corporations' travel spending will likely inch up to 25-35% of 2019 levels by the end of 2021 and up to 80% by the end of 2022 – though full recovery depends on how significantly the pandemic changed corporations' view of business travel.
That is according to a new report from consultancy Deloitte, which notes that virtual meeting technology could lead companies to rethink the necessity of some trips.
Airlines, at least in the USA, have seen domestic air travel return to near 2019 levels in recent months, though leisure travellers are primarily driving the rebound. Business travel, typically the most-lucrative segment, and international travel, remain badly depressed.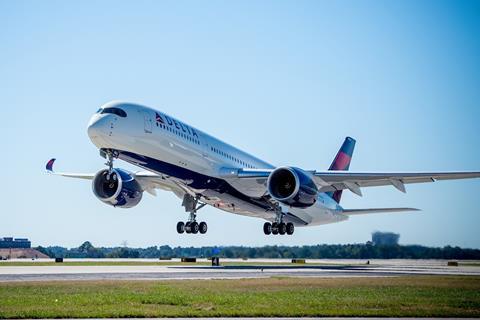 Deloitte's report, released on 3 August, predicts a steady increase in US corporate travel spending through the end of 2022.
"Many companies plan to significantly accelerate their return to offices after Labor Day", which is in early September, says the report. "Travel managers have identified this shift, especially clients' return to the office, as a top trigger for travel."
The report is based on a survey of 150 travel managers and interviews with executives at companies that in 2019 spent an average of $123 million on business travel. During the pandemic, many companies cut travel spending by 90%, it notes.
Deloitte predicts US corporations' travel spending will hit 25-35% of 2019 levels by year-end, and climb to 35-45% of the 2019 benchmark in the first quarter of 2022.
"Barriers to international travel should continue to come down, but cross-border trips will lag far behind domestic trips," the report says. "Concerns about the risk and inconvenience of crossing borders will continue to drag down traffic on transatlantic routes, and Asia will remain difficult to visit."
By the end of 2022, the spending should hit 65-80% of 2019 levels, Deloitte predicts.
"Travel managers expect a big release of pent-up demand in the second half of 2022… By the end of 2022, US corporate travel may near its new normal, the level it will sustain for the next several years," the report says.
But the pandemic's negative impact on corporate travel could be long lasting.
Kevin Michaels, managing director of aerospace consultancy AeroDynamic Advisory, says the pandemic could drive "structural change" in intra-company travel – meaning trips for the purpose of employees meeting with co-workers. That segment formerly accounted for about one-third of business travel, he says on 2 August during the American Institute of Aeronautics and Astronautics' virtual Aviation Forum.
Companies that, pre-Covid, held quarterly internal sales meetings might reinstate those meetings, but only twice yearly, he says.
Deloitte's report says the pandemic has "convinced companies" that online, virtual meeting platforms are often sufficient, especially for internal meetings. Such technology "challenges the hypothesis that newly dispersed workforces will increase travel demand for team meetings", Deloitte says.