Whenever people venture someplace new, advertisers trail closely behind. Highways are built, then billboards spring up. The internet is developed, then banner ads materialize.
This principle holds true with the latest hyped-up destination — the metaverse.
The metaverse, a term used to describe a virtual online space characterized by interactivity and interconnectivity, has been realized, to some degree, in games and platforms like Roblox, Fortnite, Animal Crossing, Minecraft and Second Life. They and others like them provide vast virtual worlds where people can explore, socialize, and build and buy stuff.
Such spaces were already growing in popularity, thanks in part to a pandemic that limited real-world interactions. And then this summer Mark Zuckerberg announced that helping "bring the metaverse to life" is Facebook's newest objective, a declaration that dialed up metaverse excitement even more. Such enthusiasm has given brands an extra sense of urgency to figure out what the metaverse means for them.
5 Ways Marketers Can Prepare for the Metaverse
Parallel real-life marketing efforts.
Offer branded collectibles.
Invest in immersive experiences.
Lean on existing communities.
Embrace experimentation.
"Marketers like to be where people are," Lindsey McInerney, global head of technology and innovation at Anheuser-Busch InBev (AB InBev), told Built in. "Where there is set to be new traffic is certainly a place that marketers need to be paying attention to."
As with any shiny new digital marketing channel — TikTok and Clubhouse are recent examples that come to mind — marketers are approaching the metaverse from a posture of experimentation.
They're looking to connect with citizens of the metaverse in ways that add value, not intrusions.
Parallel IRL Marketing
A good starting point for brands looking to show up effectively in the metaverse is for them to parallel what they do in reality, McInerney said.
In June, AB InBev's Belgian beer brand Stella Artois partnered with Zed Run, an online platform powered by blockchain technology where NFT (non-fungible tokens) horses are bred, raced and traded. If you're having trouble imagining this, picture the Kentucky Derby crossed with a crypto Tamagotchi.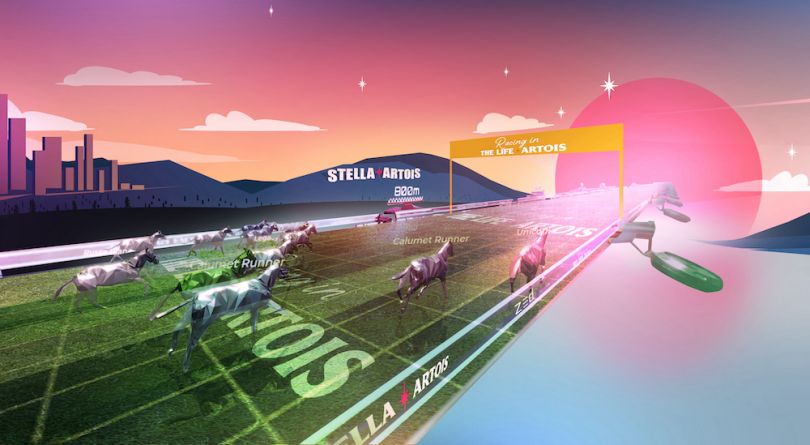 As part of the campaign, Stella Artois issued and auctioned off 50 bundles of branded NFTs. Each bundle came with an original piece of digital art, a digital race horse and a digital skin (basically a jersey) for the horse to wear. It also created a three-dimensional horse-racing track that exists and functions within Zed Run, and is designed as an extension of the brand's dreamy real-life "Life Artois" marketing campaign.
Sponsoring a metaverse-based horse race might sound like a gimmicky leap for the brand. But, in reality, AB InBev sponsors lots of sporting events. And Stella Artois, in particular, has a history of sponsoring big-time horse races. So in McInerney's eyes, sponsoring the digital equivalent is a natural entry point into the metaverse.
"This felt like a place where our consumers would expect us to be, where we would be well received, where we had an authentic way to play," McInerney said.
Offer Branded Collectibles
The pandemic accelerated several trends, among them the collecting of alternative assets and rare or limited-edition items, whether they take the form of sports memorabilia, digital art or branded merchandise. The metaverse is yet another space where people can accumulate and display items and accessories to express themselves.
It's why Roblox, the platform where 43 million daily active users engage in metaverse-like experiences — like throwing virtual birthday parties — advises many of its new advertising partners to offer virtual fashion and branded merchandise on the platform's marketplace, according to Winnie Burke, the company's director of brand partnerships.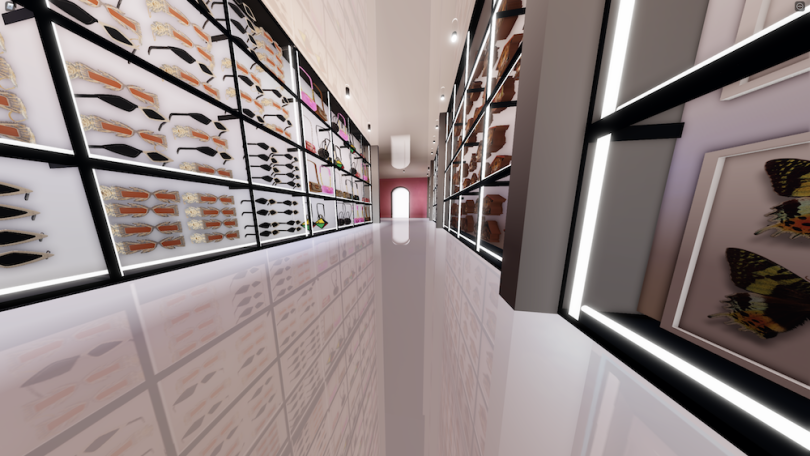 "It's a great way to promote brands and designers, to test new ideas and even to launch entire collections," Burke told Built In. "We're encouraging brands to think about not just recreating a digital version of their physical merchandise, but also to experiment with designs and bespoke items that are specifically for the metaverse."
Invest in Immersive Experiences
Given the experiential nature of the metaverse, some brands have made the foray into creating branded installations and pop-up events — things users are meant to interact with — as opposed to just running banner ads.
When brands give fans persistent, interactive spaces where they can enjoy content, their emotional investment with the brand increases, Burke said.
"These spaces are really immersive engagement opportunities for a brand," she added, "versus a passive engagement that you might find with another platform — like on social media, for example."
"These spaces are really immersive engagement opportunities for a brand, versus a passive engagement that you might find with another."
Roblox had a busy summer playing host. Gucci held a virtual exhibit, called the Gucci Garden, on Roblox this past May. The luxury fashion brand offered a series of themed rooms users could walk around in as mannequin-like avatars, interacting with various items and trying on digital clothing and accessories available for purchase.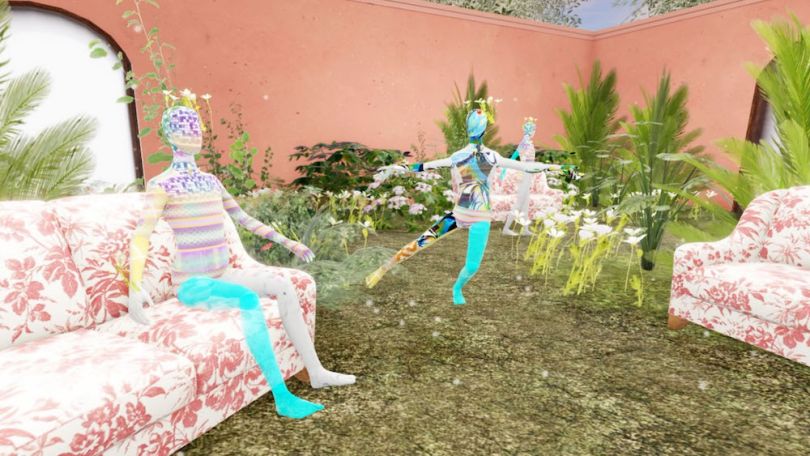 And in June, Warner Bros. created a virtual rendition of the Washington Heights neighborhood on Roblox, as part of its campaign for the new movie In the Heights. Players could explore the interactive environment, pick up collectibles and even attend a virtual screening of a clip of the movie, followed by a Q&A session with some of the cast members. In an interview with Digiday, Roblox's senior director of product for social, Morgan Tucker, likened the forum to a "fully realized spatial version" of a subreddit.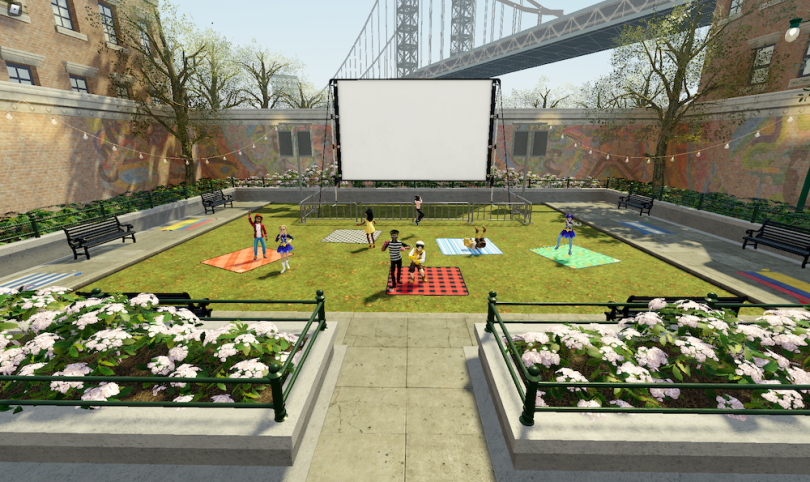 Fortnite, too, offers interactive experiences that brands leverage for increased visibility. Warner Bros. premiered the Tenet movie trailer at a drive-in movie theater location that players could access within the Fortnite game. And telecommunications giant O2 hosted a sponsored concert event in the game's Creative mode that featured a performance by the music group Easy Life.
The luxury fashion brand Louis Vuitton up and made its own video game, replete with many familiar metaverse touchstones, like collectable easter eggs and unlockable items that convey stories about the brand's history and craftsmanship. While it's just a game — and being a game is not the same thing as participating in metaverse — it shows how serious brands are about building immersive, online-only experiences; Louis Vuitton's creative director Virgil Abloh has elsewhere revealed his metaverse ambitions for the brand.
Lean on Existing Communities
It's safe to assume that, generally, people don't like ads. So how can brands show up in the metaverse without annoying the people who are already there? Let alone market to them effectively?
Roblox's Burke said that adapting to the new medium is key for brands. It would be inauthentic and ill-advised for advertisers to show up and act like they know what they're doing and just "slap their existing marketing activity from the real world on Roblox without taking into account the new format."
By contrast, she sees brands gain traction when they partner with members of the Roblox developer community to create items and experiences. These community members already know what works both in terms of game mechanics and what sorts of experiences will resonate with users.
Similarly, when O2 threw a virtual concert in Fortnite, the event was built in part by creators already intimately familiar with the Fortnite platform.
User-generated content (UGC) and community members are integral parts of the metaverse. Like with influencer campaigns, brands are often most effective when they involve platform-native creators in the creative design and execution of campaigns.
Embrace Experimentation
Talk of the metaverse has been bubbling up in some form or fashion for several years. But marketers still don't know for sure what the future holds for them — or how they'll measure the effectiveness of brand participation — in the metaverse. For some, the best thing to do is roll with it.
"It's a really exciting time to be a marketer in this space," AB InBev's McInerney said. "I believe the shift we're seeing to Web3, metaverse, is going to be one of the largest shifts we've seen in a long time. … We are where we were in social media 17, 18 years ago."
"We are where we were in social media 17, 18 years ago."
At that time, McInerney explained, company leaders didn't quite understand how to track and measure social media marketing or the impact it had on branding. But many of those anxieties dissipated as sophisticated tools and strategies emerged to help make sense of it.
McInerney views the tension brands feel about wading into the metaverse in a similar way. Eventually, tools and playbooks will emerge.
"We don't have all the answers right now," she said. "It's really, really nascent. And this is where brands need to be adventurous and bold and try things."