It's July 5th and the money is flowing. 
With college athletes now allowed to profit off their name, image, and likeness (NIL), we've already seen countless stars and role players posting about their favorite delivery service, moving company, chicken joint, or mass-produced beverage. Beyond the formal endorsements, we've seen an abundance of players join Cameo – the popular, on-demand video creation service – allowing fans to send anywhere from $10 to $200 for a two-minute birthday shoutout.
Many have referred to this era of minimal regulation as the wild west in terms of endorsement deals, assuming a faucet has now been turned on that can never be shut off. But that viewpoint misses half the story.
While the ability to receive payment in return for endorsing a product or appearing on behalf of someone else may be new to the unique world of college athletics, it's quite the opposite for the businesses shelling out these funds. Though you may be used to seeing me analyze football scheme on a weekly basis, my actual day job as an advertising industry veteran has given me a unique perspective on this situation, which I'll try to share with you today. 
Though we are still certainly in the early days, I've come up with some predictions for the NIL era, recognizing that regulation at both the NCAA as well as the federal and state government levels can always change them down the road. However, by knowing how those in control of the purse strings think, here are five ways I expect college sports and its surrounding ecosystem to be affected:
The Fortune 500 has seen this before…

It should be noted, first and foremost, that each of the country's best-known brands does NOT have a huge pile of money just sitting around, waiting to be spent on college athlete endorsements. In fact, it's just the opposite.
While many in my industry can share a story of a corporate exec blowing a huge chunk of the marketing budget on the naming rights of a golf tournament or something similar, simply because of the access it might provide them personally, such instances are the exception rather than the rule. Behind even the most elementary national marketing campaign are dozens of people working to bring it to life, meaning decisions about how and where to spend money aren't taken lightly.
The world of marketing has changed a great deal over the past decade, moving from glamorous TV commercials and full-page magazine ads to individuals promoting products within social media posts, making 'influencer marketing' a household term. As this change came about, almost every national advertiser dipped their toes in this new water, but not everyone liked the way it felt.
Many brands found that handing over creative license to a virtual unknown was not something with which they were comfortable, making what seemed like an easy process of creating content actually quite difficult. Plus, as it turns out, people that might have built a following of millions by dancing, making trick shots, or telling jokes weren't always as good at selling a product.
College athletes simply add to the already large cohort of professionals within the "influencer" landscape, and there is little evidence that a 20-year-old known for throwing a football or shooting a basketball will be much better at it than those already in the NFL or NBA.
Thanks to the regional tribalism of college sports, finding a star with both the on-field talent and off-field charisma to break through in a national marketing campaign will be rare. This means the fine folks at someplace like Coca-Cola will need to hire a dozen players to stitch together a message that blankets their target buyer from coast to coast.
While you and I might reach for a Cherry Coke Zero next time we're at the store if we saw Chris Olave chugging it on his Instagram feed, the juice may not be worth the squeeze for the ones paying him to do it. 
…But it will be a boon to local businesses

Most markets with a major sports presence have already figured out the formula. The biggest companies in the area have major affiliations with the teams, perhaps even purchasing the naming rights for their stadium or arena in an effort to build positive local sentiment. 
Then we have the next level, who often go by 'the official sponsor of…" in return for the right to sell specific items bearing the team's logo or to use it in their own promotional materials.
Finally, we get to the little guys. These are the personal injury lawyers, car dealers, and local fast food spots that put a beloved local athlete in a generic uniform that vaguely resembles the one they wear on game days. You know the ones.
While markets like Columbus and Austin feature some professional sports, they aren't the biggest draws in town. Thus, while the top two tiers of the food chain have long been established, the bottom tier of small, local businesses have never been able to really get in on the action and build an association with the marquee attraction in those cities.
The same goes for college towns like Madison, State College, Iowa City, and countless others. The real untapped growth potential from NIL deregulation comes from these businesses, not the big, national brands.
Agents will finally operate outside the shadows…

For decades, the word "agent" had been a dirty one in college sports. Accused of everything from bribing players to controlling their recruitment as high schoolers, these player representatives have long been the bogeyman allowing bad actors in amateur athletics to redirect attention away from scandal.
While there have assuredly been countless bad actors within this profession, it's important to remember that it's just that.
Many college athletes have already announced partnerships with platforms like OpenDorse, facilitating the process between brands and athletes. But while these companies may be a good solution for the average D-1 athlete, the cream of the crop will need more help than that. Many agencies offer more than simple help negotiating a contract, helping athletes manage their personal finances, and identify endorsement opportunities.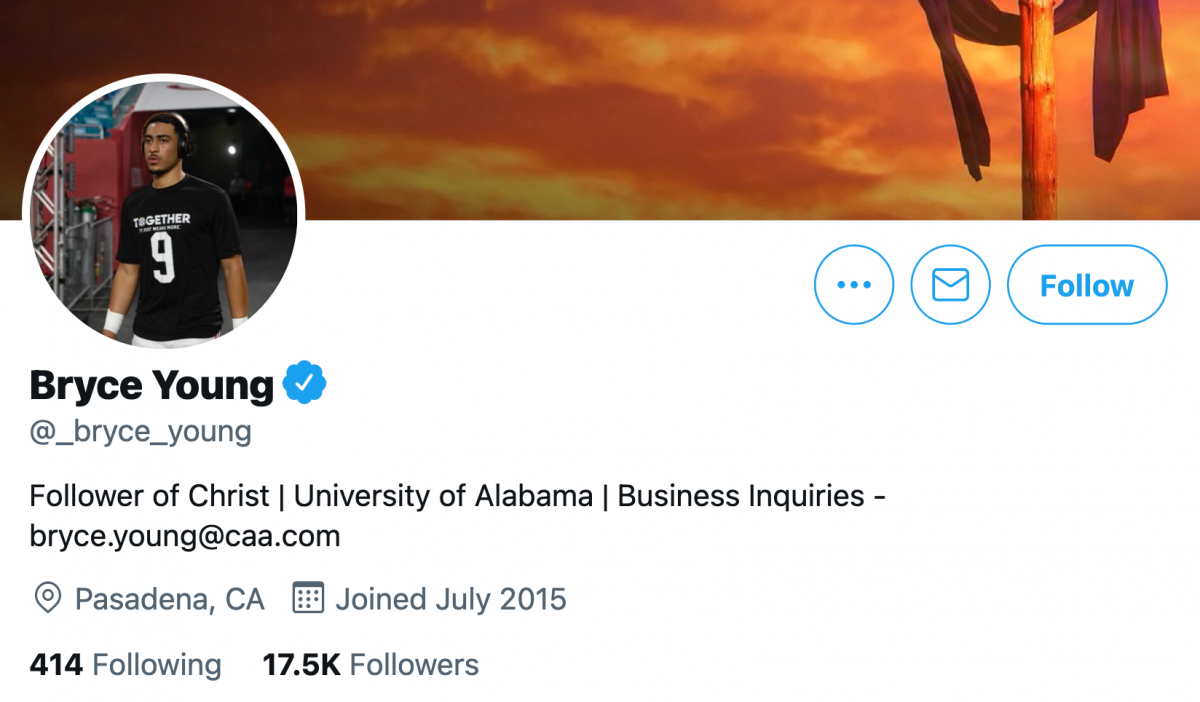 Alabama QB Bryce Young makes it no secret that he's represented by one of the world's biggest sports agencies 
But these agents aren't going to waste their time, either, meaning only those with the highest earning potential will see be represented formally. We've already seen this process begin with Alabama quarterback Bryce Young, whose Twitter bio features contact information for his team at Creative Artists Agency (CAA), the powerhouse firm that not only represents half of Hollywood, but has a client roster of athletes featuring J.J. Watt, Zion Williamson, Cristiano Ronaldo, and many more.
One can assume that its biggest rival, Endeavor, will join the fray in the coming month. You see, the firm, ran by Ari Emmanuel (the inspiration for Ari Gold in Entourage), has a sports subsidiary you may have heard of – IMG – and this publicly-traded company with a market capitalization of around $12 billion isn't running that boarding school in Bradenton out of the kindness of its heart.
After the big boys use their plethora of resources to stabilize the market, smaller, niche agencies like Klutch sports and RocNation will undoubtedly use the allure of celebrity owners like LeBron James and Jay-Z to woo college athletes in an effort to steal share.
Don't be fooled about what these agents are interested in, however. By helping athletes maximize their value by earning five, or even six, figures annually in endorsement while in college, these agents are now also primed to get their piece of the big pie: their earnings as a professional.
Agents have long scouted high school athletes with the goal of signing them as soon as they declare for the professional ranks (and sometimes before). Now, however, that process has sped up even earlier, as prep stars like Quinn Ewers and Arch Manning are undoubtedly getting pitched by agencies looking to get in as early as possible.
…and the recruiting world will evolve as a result

It's no secret to anyone who reads 11W that recruiting has become a big business in its own right. The teams bringing in the best talent each winter are the same ones competing for the CFP in the fall, meaning fans now follow pay attention to the decisions of teenagers all year long (even on the 4th of July).
This attention sprouted a cottage industry not only filled with reporters covering this news, but countless analysts who evaluate and rank said prospects as well. While the more respected evaluators have the ear of college coaching staffs, ultimately, the responsibility of determining what kind of impact a 17-year-old might have in a half-decade falls on those coaches.
As noted above, however, those big agencies don't like to invest in clients that don't provide a return on their investment, meaning they'll want to have the best information on each year's class as possible. But they won't be buying a subscription to 247 like you and me, rather, they'll likely begin hiring away the top evaluators from those sites to not only identify which prospects to target before they step on campus but to keep that information confidential.
Given the high annual turnover in the coaching industry, we may even see coaches and personnel staff elect to join agencies in an evaluator role rather than seek another job with less security.
The novelty will fade quicker than you think

Make no mistake, we will see some unique arrangements between brands and these college athletes. 
Garret Wilson might take a picture with you and your brand new Nissan at the dealership while Jimmy Sotos and his teammates might shout out a popular spring break destination in a TikTok video. Javontae Jean-Baptiste may get food delivered by a local restaurant while streaming his gameplay on Twitch at the same time Harry Miller is judging a karaoke contest at a bar in the Short North.
Heck, we might even see Ewers and his signature mullet break through, portraying sheriff Brian Bosworth's son in a Dr. Pepper Fansville commercial.
But while each of these athletes absolutely has the right, as Americans, to earn a profit off their stature in the local community, it's important to remember that markets have a tendency to correct themselves over time.
Proud to announce my partnership with the best underwear brand out!!! @psdunderwear pic.twitter.com/1r5Hhwaakd

— Tyreke Smith (@T_23_baller) July 3, 2021
If a memorabilia dealer wants to pay Zach Harrison $1,000 every weekend to sign autographs, the star defensive end should absolutely take the offer. But if he spends every Sunday adorning hundreds of footballs and mini Buckeye helmets with his signature, that dealer will eventually be less interested in shelling out the same amount for his services.
Eventually, fans will get used to seeing their favorite players 'hosting' events at local bars, charging for their autograph, and slugging back an upstart energy drink on their social media accounts. National brands, especially those with ties to college sports, will forge short-term partnerships with college stars to see if their presence helps move product, but will likely abandon the practice quickly due to the amount of work involved and negligible benefits. 
As has been the case in popular American culture for the past half-century, those rare individuals that can leverage their athletic success to show off a unique personality will be the biggest winners from NIL deregulation. And while everyone should have the right and ability to profit off their name, image, and likeness, not everyone ultimately will.