American Airlines says business travel is returning more quickly than originally expected, and leisure bookings will continue to remain strong through the coming months.
The Fort Worth-based carrier says on 3 June that 47 of its top 50 corporate accounts have announced a full return to travel by the end of the year.
"We are starting to see some encouraging signs that when travel restrictions are eased, [business] travel returns quickly," the carrier's president Robert Isom tells the Bernstein Strategic Decisions investor conference on 3 June. "We are encouraged by what we are seeing."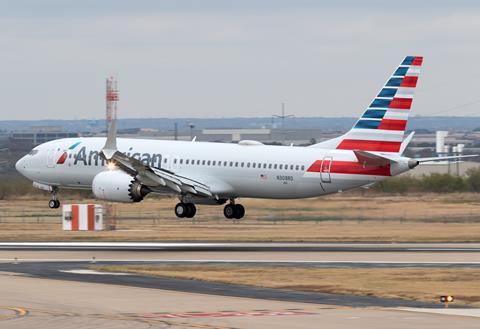 Earlier in the day, in a filing with the Securities and Exchange Commission (SEC), the airline reported "continued strength in net bookings and load factors".
"As of June 2, the company's seven-day moving average of its net bookings was approximately 90% of the level experienced in the same period of 2019," the airline writes in the filing. "In addition, the company's domestic load factor for the month of May was approximately 84% and greater than 88% over the Memorial Day holiday."
The Memorial Day long weekend, which is the last weekend of May, is traditionally one of the year's strongest travel weekends, and kicks off the summer holiday season in the USA. On Friday, 28 May, the Transportation Safety Administration (TSA), responsible for security at more 450 US airports, screened 1.96 million passengers, the most since 7 March 2020.
American's chief financial officer Derek Kerr, also speaking at the conference, adds that the airline has seen customer demand rise sharply as soon as travel restrictions to particular regions or countries ease. 
"The minute markets open up we see an immediate response" from customers, he says. "Demand for leisure traffic is stronger than we would have expected a few months ago. We see it everywhere."
"People have money," he adds. Therefore, the airline's ability to up-sell – and improve yields – will continue to be positive compared to historical trends. 
American expects the strength to continue through the second and into the third quarters, with yields "to approach or exceed the corresponding 2019 levels during the peak summer travel period".
"In line with prior guidance, the company continues to expect second-quarter system capacity (total available seat miles) to be down 20% to 25% and total revenue to be down approximately 40% versus the second quarter of 2019," the filing says.